EMDR


Eye Movement Desensitization and Reprocessing, (EMDR)
EMDR (Eye Movement Desensitization and Reprocessing)
is a psychotherapy that enables people to heal from the symptoms and emotional distress that are the result of disturbing life experiences. Repeated studies show that by using EMDR therapy people can experience the benefits of psychotherapy that once took years to make a difference. It is widely assumed that severe emotional pain requires a long time to heal. EMDR therapy shows that the mind can in fact heal from psychological trauma much as the body recovers from physical trauma. When you cut your hand, your body works to close the wound. If a foreign object or repeated injury irritates the wound, it festers and causes pain. Once the block is removed, healing resumes. EMDR therapy demonstrates that a similar sequence of events occurs with mental processes. The brain's information processing system naturally moves toward mental health. If the system is blocked or imbalanced by the impact of a disturbing event, the emotional wound festers and can cause intense suffering. Once the block is removed, healing resumes. Using the detailed protocols and procedures learned in EMDR therapy training sessions, clinicians help clients activate their natural healing processes.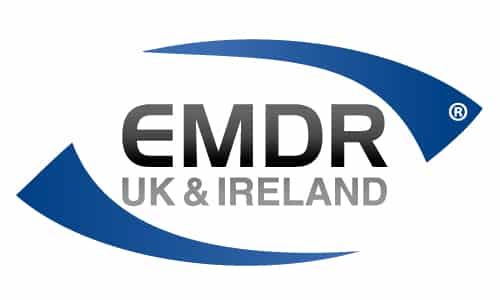 "Trevor recently completed additional training in the treatment of Fibromyalgia and offers this service in Dorchester.
Recent studies have shown beneficial results in the treatment of fibromyalgia using Eye Movement Desensitization and Reprocessing (EMDR)
The study showed that those suffering from fibromyalgia had experienced some form of trauma at the onset of fibromyalgia
By using a special EMDR protocol dealing with these specific traumas then a vast improvement is shown in some cases complete recovery."
Book your free 1/2 hour assessment to see if it could help you
EMDR is a powerful treatment which has been very successful in helping people who suffer:
Trauma
Fibromyalgia
Addiction
Anxiety
Panic Attacks
Obsessive Compulsive Disorder
Disturbing Memories
Post Traumatic Stress
Depression
Body image
I have also used it successfully for sports performance and business procrastination.
EMDR is an eight phase process
Phase 1: The first phase is a history taking session.
Phase 2: During the second phase of treatment I will ensure you have several different ways of handling emotional distress, for example: using relaxation techniques.
Phases 3-6: In phases three to six, a target is identified and processed using EMDR procedures. These involve the client identifying three things:

The vivid visual image related to the memory
A negative belief about self
Related emotions and body sensations

Phase 7: In phase seven: Body scan and closure, we will review previous sessions.
Phase 8: Is further closure and dealing with any future concerns.
During all sessions you will be asked to keep a log of any dreams, negative thoughts and feelings and what action you took to overcome these thoughts and feelings.
​Research has been carried out by National Institute of Clinical Excellence (NICE)
Further details can be found at
Nice guidelines
CLIENT FEEDBACK
" I suffered many years with post traumatic stress, I went to Trevor after a friend told me about him. I was not sleeping properly because of anger issues after three failed marriages in ten years, due to my behavior.
A week before I went to see Trevor I tried to end my life, not for the first time.
After my initial double session that involved giving Trevor a history of the last few years, I felt safe, and confident that Trevor could help me.
I had a further 8 sessions; after four sessions I started to feel better, by the end I felt much calmer, my sleep improved and bad dreams stopped. I have not felt this good in years."
Testimonials
Clients Feedback
I have used Trevor before, I then moved out of the area so I decided to use Trevor's Phone/video service.  I could not believe how effective it was. No more travelling for me as I prefer this form of counselling saves so much time in travel.
Thank you so much for all your expert help and support over the last year. 
"I used Trevor for business coaching and was surprised by his array of  business knowledge. With Trevor's help I became more focused on  what direction I wanted my business to go."